Bandits & Heroes, Poets & Saints provides an opportunity for young people to learn about the rich history and culture of the Northeast of Brazil. The exhibition also encourages us to explore similarities in our own history and culture in the United States. To assist teachers and parents guiding young people in this discovery, downloadable educational materials relating to the exhibition are available on this website.


The downloadable materials include:
Overview of the Exhibition
Concise summary of the main points in each of the three sections of the exhibition, with questions for discussion. This overview is designed to assist families and teachers help young visitors reflect on what they learn from the exhibition and relate new knowledge to their own experiences.
Treasure Search
Self-guiding, interactive treasure search designed to help young people explore works of art in the exhibition. Download "Treasure Search" and print on 8½ x 11" paper, double-sided. Fold sheet in half lengthwise (color side out); then fold into thirds to create small booklet. (4 versions)
Treasure Search 1
Treasure Search 2
Treasure Search 3
Treasure Search 4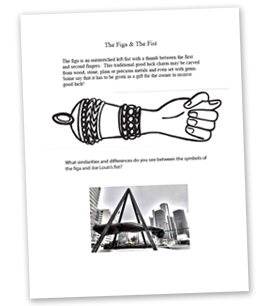 Lesson Plans and Handouts
Professional teaching materials keyed to major themes of the exhibition and arranged by grade level: 3-5; 6-8; 9-12. Each grade level includes eight lesson plans, with related teacher information sheets and student handouts. Teachers may select materials most suitable to interests and needs of their own students.
---
These educational materials were developed to complement the exhibition, Bandits & Heroes, Poets & Saints, by educational specialist, Linda Cassells, with the assistance of artist/educator, Halima Cassells.

Linda Cassells
Linda Cassells, an educational consultant and former teacher, has worked extensively with students at both the primary and secondary levels. She was a teacher in the Detroit schools, having taught at Chadsey High School as well as the Nataki Talibah Schoolhouse where she taught 5th-8th grades and served as Assistant Principal. Linda Cassells also taught African and Ethnic Studies at the Detroit Children's Museum and developed educational materials on Motown for the Henry Ford Museum. She has complemented her study of the African Diaspora with travel, including travel to Brazil, and drew from a wealth of experience and understanding in developing the educational materials to complement the exhibition, Bandits & Heroes, Poets & Saints.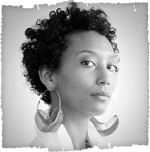 Halima Cassells
Halima Cassells, artist and creator/organizer of community-based public art projects in Detroit, holds a Bachelor's degree in English from Howard University. She worked as a teacher and as an organizer of after-school, community based arts programs in New York City before returning to her hometown of Detroit where she is an active leader in the art community known for her lively murals and community-oriented art initiatives. Halima Cassells developed the visual resources used in these educational materials and served as a consultant to the project.
Materials may be downloaded and/or reproduced free of charge for educational use.
©2013 Con/Vida – Popular Arts of the Americas
Educational Materials supporting the exhibition, Bandits & Heroes, Poets & Saints – Popular Art of the Northeast of Brazil are made possible in part by grants from the National Endowment for the Humanities and from the Michigan Humanities Council, an affiliate of the National Endowment for the Humanities
Any views, findings, conclusions or recommendations expressed in this material do not necessarily represent those of the National Endowment for the Humanities or the Michigan Humanities Council.